In this episode of The Plotaholics Podcast, we continue on into Will Smith-tember and travel back to 1997! It's time for "Here comes the Men in Black! Galaxy defenders!" 
That's right, the 1997 sci-fi phenom, Men in Black, starring Will Smith, Tommy Lee Jones, Rip Torn, Vincent D'Onofrio, and Linda Fiorentino. 
In this film, Agent J (Will Smith) is a rookie in a top-secret agency that monitors and polices alien activity on planet Earth. Agent J is partnered with veteran MIB Agent, K (Tommy Lee Jones), searching for an alien Bug (Vincent D'Onofrio) who has come to Earth to capture a galaxy to cause planetary destruction. 
Listen to your favorite Plotaholics dissect this film like Area 51 would an alien corpse, and it's all for your entertainment! Sit back, relax, and just bounce with me just bounce with me. Just slide with me, just slide with me. Take a walk with me. Take a walk with me. Make your neck work. Now scream!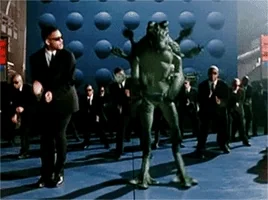 Follow the Plotaholics all over the web:
Subscribe to The Plotaholics Podcast wherever podcasts are: