Hey Plotaholics! Bryan here.
Here's a question that I've heard before, but I'll ask it again:
Do you remember when the Fast and the Furious franchise was about street racing?
It's with this question in mind that I'm writing my review on the recently released spin-off to the Fast and the Furious franchise, Hobbs and Shaw. (Mild Spoilers ahead)
In this first spin off of the Fast and the Furious franchise, Hobbs (Dwayne Johnson) and Shaw (Jason Statham) are forced to work together to save the world from a virus developed by a terrorist organization and their cybernetic-enhanced super soldier (played by Idris Elba) after it was taken from the terrorist group by Deckard Shaw's sister–MI6 agent Hattie Shaw (Vanessa Kirby).
What Works
The Action
The action set pieces look amazing even if they are sometimes ridiculous.
Idris Elba
Each and every time Idris Elba is on the screen, he steals the show. Elba's action scenes are absolutely amazing. He runs down a building A-Team style; he rides his bike through a bus; and his fight scenes with Johnson and Statham are excellent.
The Chemistry
Statham and Johnson continue their chemistry from previous installments in the Fast and the Furious films and do an amazing job in their acting.
Vanessa Kirby is an outstanding new addition to this franchise. Her charisma, her overall acting chops, her action, her everything was absolutely amazing. When she's on screen with both leads, she holds her own and even owns them a time or two as well. Sometimes, it seems like she's playing den mother to the over-hyped masculinity of the leads and does so beautifully.
The Culture
I love how the family dynamic of the Shaws linked into the Samoan family dynamic of Hobbs' family. It goes to show that even with the differences of our cultures, we are still the same. Kind of makes the hatred between cultures appear more and more foolish doesn't it?
The Cameos
I don't want to spoil these for you, but they work. Trust me.
What Doesn't Work
The overt aspect of Hobbs and Shaw's hatred of each other
This is something that my ten-year-old pointed out to me during the movie. The writing threw in our faces so hard that Hobbs and Shaw hate each to the point that it seemed like the point was duct taped to Mike Tyson's boxing glove and slammed into our faces repeatedly until the ensuing head injury caused us to forget that HOBBS AND SHAW HATE EACH OTHER! I won't lie, some of the contention between Hobbs and Shaw is funny, but it gets to be entirely too much.
More Outright Contention
No, don't get me wrong, I loved the closer look into Hobbs' background. Of most of the main characters in the franchise, Luke Hobbs is the one that has been fleshed out the very least. It's just been Johnson's talent that has made the character so amazing. However, why in the hell does Luke Hobbs have to have a beef with everyone he encounters?
A lot of his back story fits with why he's such a gung-ho law man, but the whole main-character-stays-away-due-to-family-strife cliché is…well…cliché, especially when you see how his mother loves him so much. There's no way his family would be that torn apart for 25 years. At least, that's how I see it. There's no way he hasn't spoken to his mother for a quarter of a century because his older brother hates him. The family dynamic was the most unbelievable point of the movie for me–even more unbelievable than the trucks being used to pull down an assault chopper.
Plotholes
Why in the hell was Owen Shaw all of a sudden forgotten about in this film? Did he die in Fate of the Furious and I totally missed it? He was not mentioned at all in any aspect of this film and that really bothered me. This is what really made the movie difficult for me to really get into because I was constantly wondering 'What about Owen?'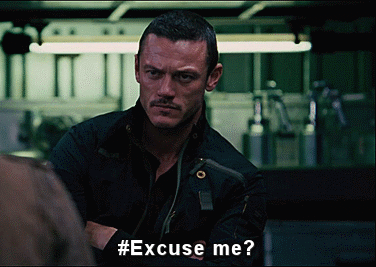 Final Thoughts
All in all, Hobbs & Shaw is a decent popcorn summer action flick. It's not The Godfather or Avengers: End Game, but it is fun as all hell.
My official Plotaholics score is 3 out of 5 shots. It isn't perfect. Some aspects of the film were a bit difficult to deal with all in all, but they don't distract me too much (except for the omission of Owen Shaw from the Shaw family tree).
Would I suggest you go and see it? Well if you are a Fast and the Furious fan like I am, I would definitely say to go and see it. Remember though, it's a spin-off. To that end, it stands on its on.
The only real thread that ties this film to the parent series is Mr. Nobody. Who also doesn't appear, in case you were wondering.
Plotaholics Shot Rating:
~~~
Follow The Plotaholics all over the web:
Subscribe to The Plotaholics Podcast wherever you get your podcasts: